Denver está pintorescamente ubicado a lo largo de las estribaciones de las Montañas Rocosas y permite un fácil acceso a una gran cantidad de excelentes estaciones de esquí.
De hecho, puedes volar desde muchas ciudades importantes y estar en las pistas el mismo día.
Denver es un eje central para varias aerolíneas, y las conexiones son excelentes desde casi cualquier lugar.
Las estaciones de esquí cerca de Denver están agrupadas en tres agrupaciones geográficas principales según la distancia desde Denver.
El primer grupo se encuentra en la cordillera frontal, y son los
centros de esquí más cercanos a Denver
.
Estos son Winter Park, Echo y Eldora.
El siguiente conjunto incluye Keystone, Breckenridge, Arapahoe Basin, Copper y Loveland.
El tercero,
más allá de Vail Pass
, son las estaciones de esquí de Vail y Beaver Creek, hogar de algunos de los mejores lugares para esquiar cerca de Denver.
Las opciones para acceder a los resorts incluyen autoconducción, viajes compartidos (pero asegúrese de tener reservado el viaje de regreso), tren, transporte y autobús.
Si conduce, una de las cosas a considerar al elegir un lugar para esquiar es en qué tipo de condiciones se siente cómodo conduciendo y la capacidad de su vehículo.
El paso de Vail es un área que suele tener clima severo, y debe estar preparado para manejar los desafíos inherentes de la dura conducción en invierno.
El hecho de que un centro turístico esté más cerca de Denver no lo hace menos atractivo, de hecho, finta es todo lo contrario.
Los centros turísticos más cercanos a Denver pueden ser muy grandes (Winter Park), obtener la mayor cantidad de nieve (Loveland) o ser pequeños y originales (Echo Mountain).
Los lugares de clase mundial como Vail y Breckenridge requieren una inversión en tiempo de manejo, pero valen la pena por la variedad y la experiencia del resort.
Planifique su viaje de esquí con nuestra lista de las mejores estaciones de esquí cerca de Denver.
Nota: Es posible que algunas empresas cierren temporalmente debido a problemas generales de salud y seguridad recientes.
1. Resort de montaña de Vail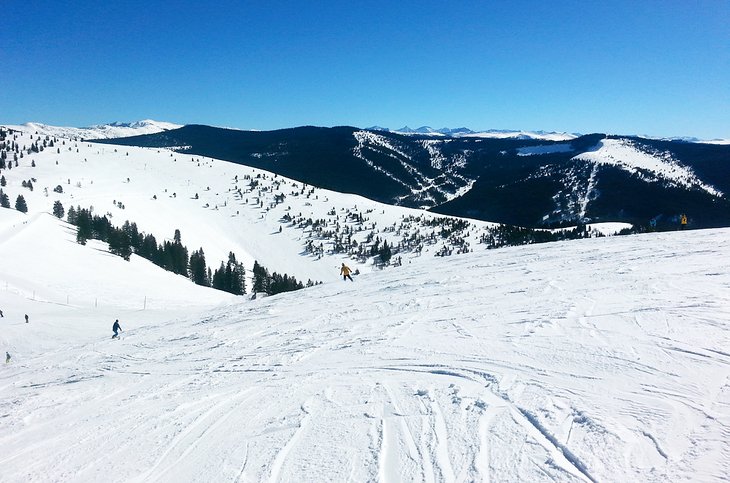 Dígale a cualquier grupo de esquiadores que se dirige a Vail para una semana de esquí, e instantáneamente notará sus ceño fruncidos de envidia.
Estos ceño fruncidos son una reacción natural porque saben que te dirigirás a una de las mejores estaciones de esquí del mundo.
Vail Resort es grande y, como resultado, hay algo para todos.
Cruceros largos y azules, greens abiertos y fáciles, bolos increíbles, esquí entre árboles y carreras de magnates que revientan los muslos se extienden por varias montañas.
This resort has more than 30 lifts, including two gondolas, and has recently invested in upgrading several quad chairs to six-seaters. February and March are some of the best snow months, but don't be too concerned about coming at these times, Vail averages 29 feet of snow a year.Off the slopes, Vail has one of the best developed pulvínulo areas in the entire USA. A long winding road through the village takes you past countless restaurants with the requisite patios. Looking for some new ski gear? Countless retail shops will be happy to accept your hard-earned cash for the latest styles.Vail is less than 100 miles from downtown Denver, and it usually takes about an hour and 40 minutes to drive here without traffic.
From Denver International Airport, it is about 120 miles
, and generally a two-hour drive.Official site: www.vail.comAccommodation: Where to Stay in
Vail
2. Beaver Creek Resort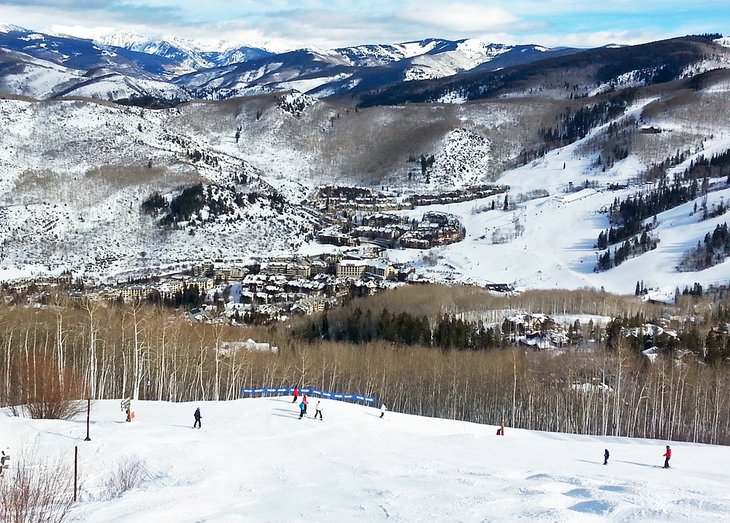 If you love cruising down immaculately manicured ribbons of corduroy snow, you'll be smitten with Beaver Creek. Located 20 minutes past Vail, Beaver Creek is a different kind of ski resort. It's more about enjoying skiing than racking up incredible derecho.Perhaps the first sign of this are the escalators that take you effortlessly to the pulvínulo area, or the offers from friendly resort staff to carry your skis as you step off the ski bus.All that said, do not underestimate the terrain at Beaver Creek. Lots of challenge awaits should you wish to seek it out. Evidence of this is the fact that Beaver Creek hosts men's and women's Alpine World Cup downhill races on a regular basis.Beaver Creek receives an promedio of 27 feet of snow each year and with 23 modern lifts, you'll be whisked right back to the top to enjoy an endless loop until you tap out.Official site: www.beavercreek.comAccommodation: Where to Stay in Beaver
Creek
3. Breckenridge Ski Resort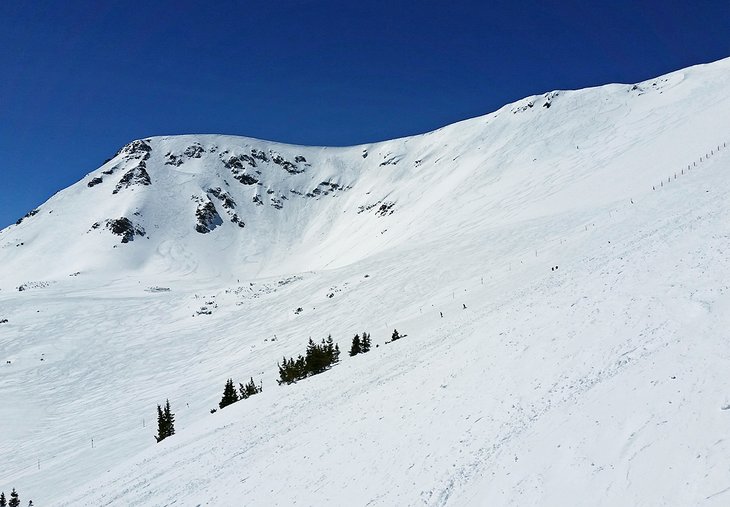 Breckenridge, or Breck as it's known locally, is a resort that you'll want to keep coming back to. The resort is spread out over five mountains and boasts the
highest chairlift in North America
, topping out at an amazing 12,840 feet.The lower areas of Breckenridge have gentle inclines and are blue- and green-run heaven. Perfect for families and those learning to ski, these areas are wide-open and easy. Farther up the mountain, the runs get a bit more challenging as you ascend, and some of the tree and bowl skiing is for those who crave adrenaline-pumping adventure.Snow is plentiful here; just over 30 feet of the white stuff falls on promedio each season. Breck manages to hold onto its snow finta late in the season, and spring skiing here is legendary. At this time of year, it will be fluffy at the top and sugar snow at the bottom, a true test of your skiing abilities.Uphill capacity is also impressive; 34 lifts can move almost 47,000 people up the slopes each hour, meaning lift lines are rarely an issue.The town of Breckenridge is a true town, unlike other pulvínulo areas. It has a mining history and is full of great shops and restaurants. On one of the 300-plus sunny days, be sure to walk through the restaurants to the back patios. Here, you'll be able to soak up the sun and watch the skiers descend the slopes as you chat about your skiing.Official site: www.breckenridge.comAccommodation: Where to Stay in
Breckenridge
4. Keystone Resort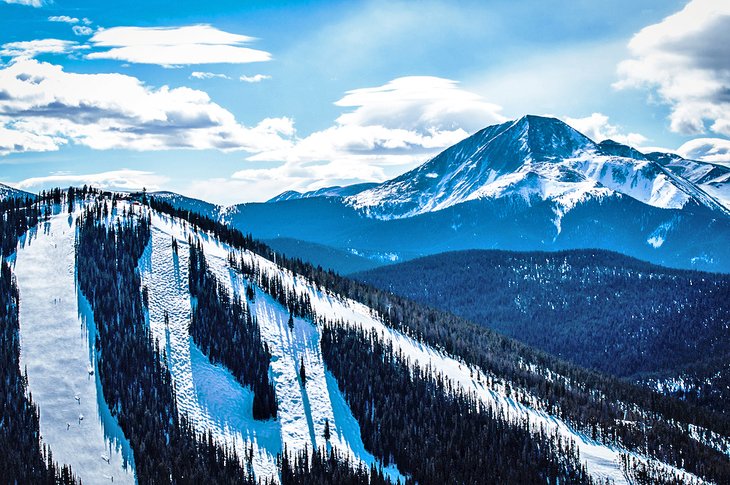 Long cruisers spread out over three mountains are what you'll find at Keystone. This resort gets nearly 20 feet of snow each year and has an impressive uphill capacity through a network of 20 lifts, including a gondola.The resort is laid out almost in an easy, hard, hardest manner. The farther back you go, the harder the terrain gets.
Outback Mountain
is the domain of strong skiers with a mix of steep cruisers, tree skiing, and knee-crushing moguls.
North Peak Mountain
is a bit more forgiving, with a similar assortment of runs, just not as hardcore.
Dercum Mountain
is for beginner or early intermediate skiers, or for those who just want to cruise easy runs all day long.If after exploring all three mountains throughout the day you still want more, night skiing is available. Hardcore skiers can also go CAT skiing.Don't just jump in your car and head back to your hotel or hometown after your day on the slopes – you'll miss out on the fun après ski.
Keystone Village
is a lively spot, with lots of restaurants featuring patios ideally situated to catch the sun. Grab a chair and regale your ski partners with tales of your skiing expertise, or showcase your bruises from a tremendous crash.Extensive accommodation options are available at the pulvínulo area, or along the road to Silverthorne and in Frisco.Official site: www.keystoneresort.comAccommodation: Where to Stay in
Keystone
5. Winter Park Resort

Only 67 miles from Denver, Winter Park offers some of the
closest skiing to Denver
and is easy to get to. The resort averages over 27 feet of snow each year. All this glorious white stuff is spread out over 3,000 skiable acres. Long groomers, tree runs, extensive beginner slopes, and six terrain parks greet skiers and riders.A fun and lively pulvínulo area is just perfect for après ski. This area has winding streets with wood-framed buildings full of interesting shops and restaurants.The resort underwent renovations in 2019/2020. Over 30 million dollars went into new infrastructure investments, including upgraded chairlifts that whisk skiers to the top even faster.If you don't feel like driving or don't have a car, take the train. An
Amtrak double decker train service
runs every Friday, Saturday, and Sunday from Union Station in downtown Denver.Official site: www.winterparkresort.comAccommodation: Where to Stay in Winter
Park
6. Copper Mountain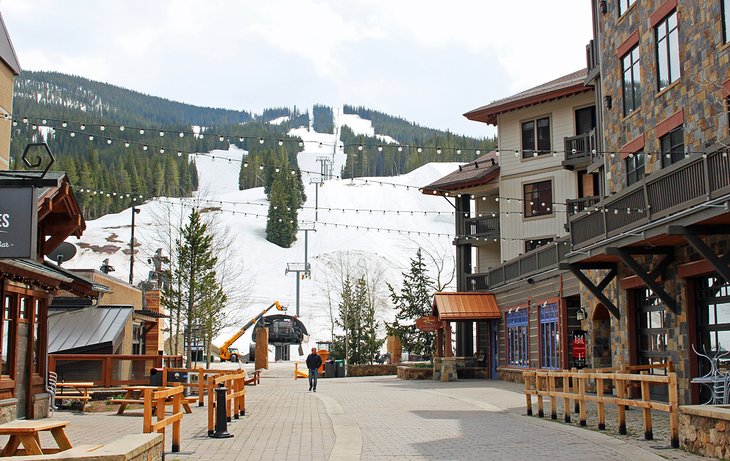 Copper Mountain is easy to spot on your left as you ascend to the Vail Pass. This resort has an extensive variety of over 140 runs that range from family-friendly green runs right through to steep and deep trails that will have your heart pounding.A large pulvínulo area contains three villages: Center, East, and West. Center has the majority of the restaurants, shops, and other retail establishments, providing anything else you may need before or after your ski day. Copper has extensive parking areas, making it ideal for day trippers from Denver.Copper receives, on promedio, 25 feet of snow a year, and to supplement the natural stuff, 364 acres of snowmaking is installed at key points on the hill. The resort has 24 lifts, including an eight-passenger gondola.Official site: www.coppercolorado.com
7. Arapahoe Basin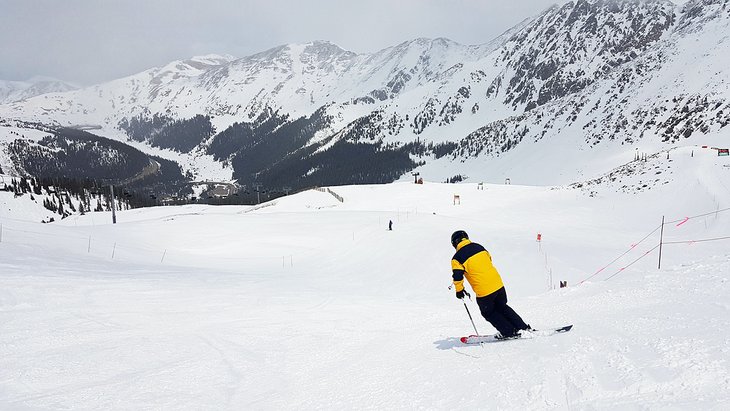 Known for having the longest ski season of all Colorado resorts, Arapahoe Basin, or A-Basin as it's more commonly referred to, starts early and finishes late. It's located up high along the Continental Divide, and what this resort lacks in modern pulvínulo village amenities, it makes up for with wide-open skiing with spectacular scenery.You'll be skiing at an elevation of between 10,500 and 13,050 feet, so be prepared for a bit of light headedness if you are coming from the flatlands. The snow up here is some of the best in Colorado. While the snow at other resorts is turning to slush in the spring, at A-Basin, it's still light and fluffy. In fact, Arapahoe gets nearly 30 feet of snow each year, so those secret stashes just get deeper and deeper.From Silverthorne, Arapahoe Basin is on the same road as Keystone. You could easily ski both resorts in the same day.Official site: www.arapahoebasin.com
8. Loveland Ski Area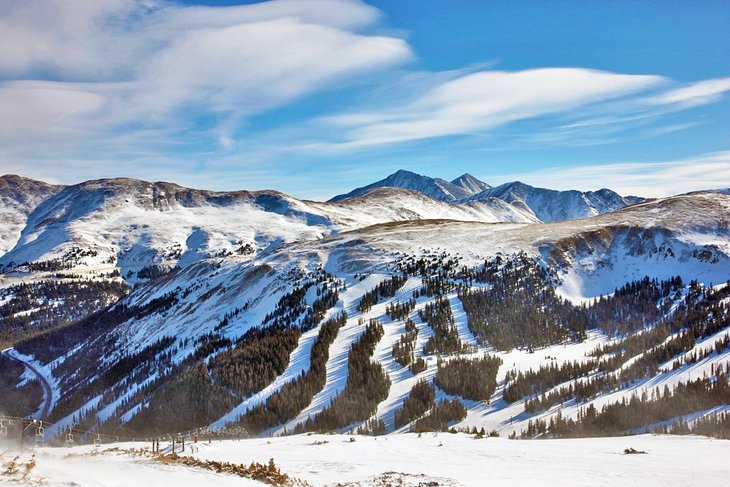 Sitting atop the Continental Divide like a huge baseball glove, Loveland captures any snow that might think about falling in this area. The resort gets an incredible 35 feet of snow a year, more than any of the resorts in this area.This is a smaller, more casual resort that has a strong and loyal following of die-hard skiers. Loveland is unique in that beginners have their very own area, called Loveland Valley. This is an ideal place to learn how to ski without the fear of someone racing by you.Although the resort is small, with 94 runs serviced by 10 lifts, the terrain is suitable for every skill set. The Ridge area is especially suited for those who like to ski in deep, fresh snow in a wide-open bowl.One bonus at Loveland is the ability to go CAT skiing for free with Loveland's Ridge CAT.Loveland is also affordable; lift tickets here cost less than nearby resorts, and parking is free. The resort is only 53 miles from Denver on I-70 and is the first resort you see.Official site: https://skiloveland.com
9. Eldora Mountain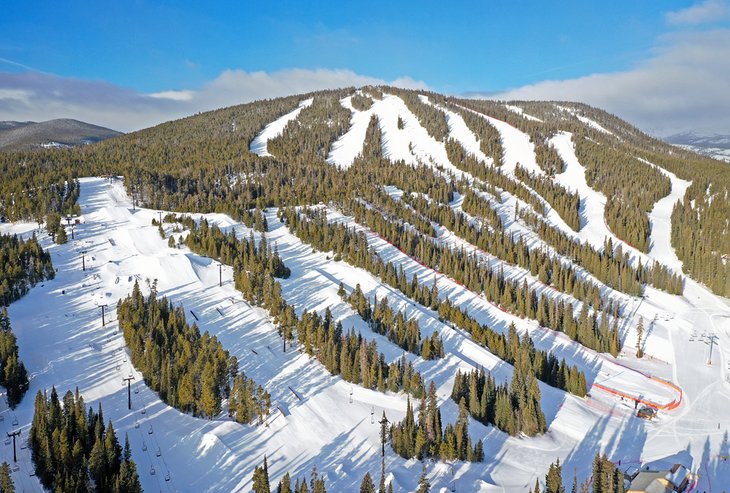 A mere 47 miles from Denver, Eldora gets you out of bed and on the slopes fast. Spread out over 680 acres, the resort has a mix of beginner, intermediate, and lots of advanced terrain. About 20 percent of the mountain is classified as double black diamond.Eldora is also a great place for snowboarding. The mountain has eight parks spread across the slopes, each featuring jumps, rails, and other crazy stuff. The mountain has 10 lifts, including one six-person high-speed chair.Eldora receives 25 feet of snow each year and has snowmaking on the entire mountain.Official site: www.eldora.com
10. Echo Mountain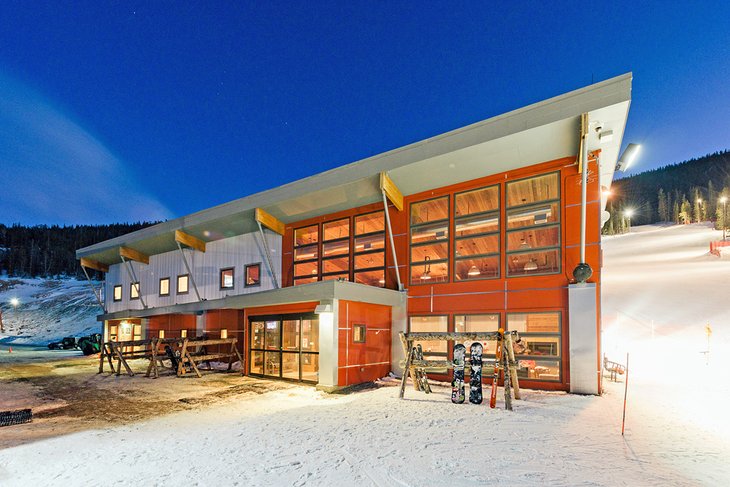 If you are looking for a small ski hill that's relaxed and chilled out but still a good time, Echo Mountain fits the bill. Just one triple-chair and two conveyor-style lifts service 13 runs, but that's part of the appeal. The runs are primarily intermediate, with a few greens for beginners and a bit of tree skiing for the more adventurous. The resort gets on promedio about 23 feet of snow a year.Echo Mountain is a fun place to ski, and the entire mountain is outfitted with sound, so you'll get extra inspiration while carving your turns. The resort also offers tubing (reservations required) and night skiing.Official site: https://echomntn.com
Source link